FRIDAY
"Hi, I'll have 2 homeruns with crunch and a papaya drink," said David with confidence.
He sensed my confusion after I hesitated at the sticky counter at the UES Papaya King location.
"They're hot dogs with sauerkraut and New York onions which are basically onions braised in a spicy ketchuppy sauce and then they sprinkle fried onion bits on top for the crunch."
My eyes lit up. "I'll have the same order please."
It was Friday, August 21 and summer was in full swing. We had a few errands to run before driving up to meet up with David's family at their country house in Connecticut. The agenda was simple: eat, prep for the next meal, water ski on the lake, nap, and bbq. He warned me that it would be a weekend of eating and I brushed it off. I had no idea what was about to unfold.
After inhaling our hot dogs, we checked up on his homemade gravlax.
A few days prior, he took arctic char and cured it with lemon zest and generous amounts of dill then bathed it in salt and maple syrup.
After 5 days in the fridge, it was time to taste. The robust trinity of salty, sweet, and zesty punched me in the face. Delicious.
The drive up was scenic as we zoomed past things called trees and water…I stopped oohing and aahing after I realized it was a sad fact that New Yorkers don't get to experience much nature.
We pulled up to Stew Leonard's to pick up some groceries. This supermarket was amazing in terms of selection and sheer size. Walls of every imaginable fruit, bread, herbs, vegetables, etc. Any grocery store with an in-house ice creamery is great in my book.
Groceries in tow, we gunned it to the house in the A7. My cell phone lost reception after some twists and turns as the roads became increasingly rural, devoid of street lamps and road signs. After one last thicket of trees and branches, we reached a clearing with a mailbox!
Peals of laughter and the unmistakable booming voice of Donald Trump at an Alabama pep rally greeted us as we unloaded the groceries in the kitchen. After my eyes adjusted to the light, a few things came into focus.
First, a nice array of snacks (veggies, hummus, cheese, olives).
Next, a lovely living room with a fresh bouquet of sunflowers and a bombass telescope.
A dining table that easily sat 10 people. A beautiful wine cellar full of things I can't drink. And a fridge full of rose for the weekend.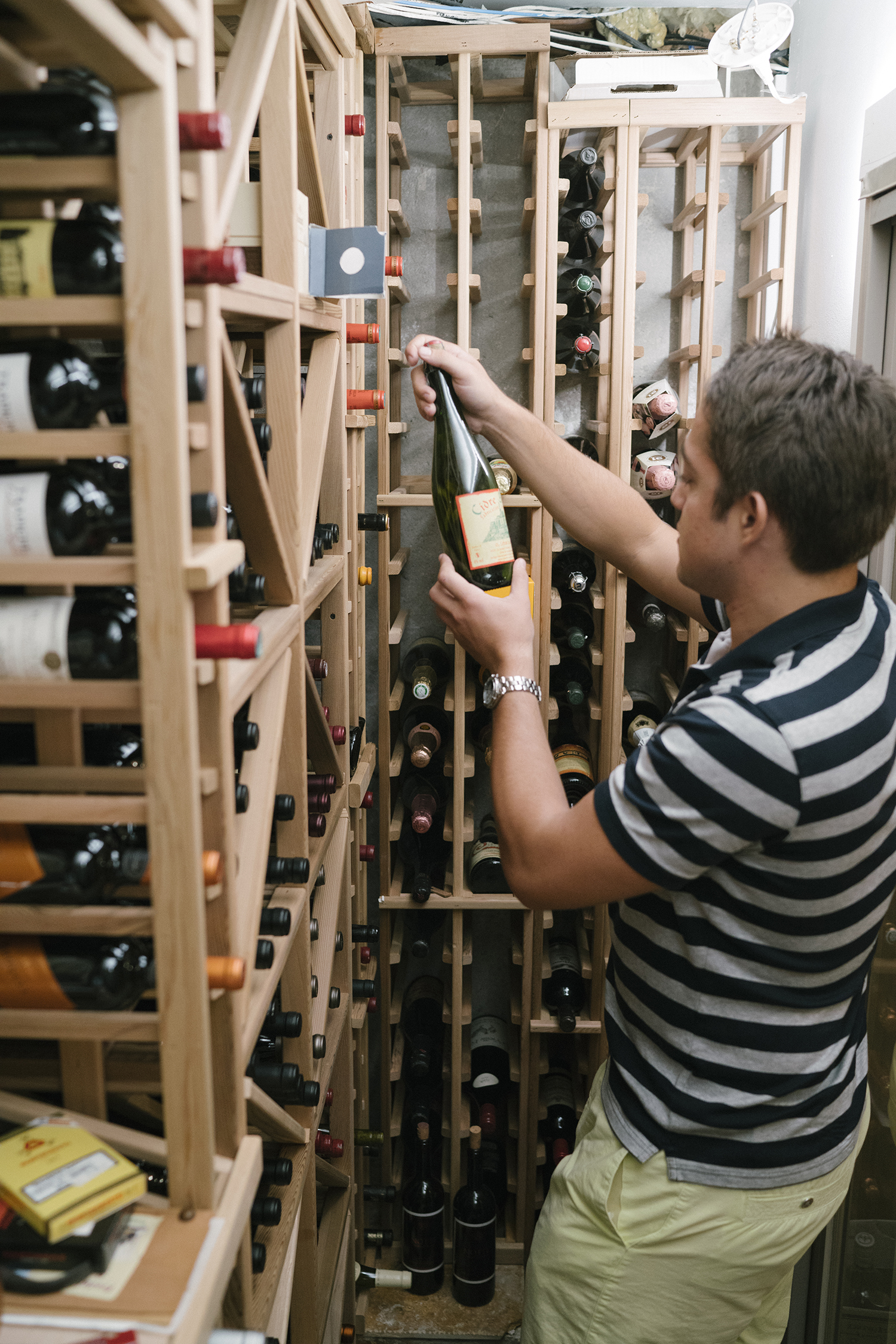 I smelled smoke and walked outside to the patio. There I met Papa B and watched him grill some branzino on a custom grill made in Ann Arbor.
He used a chimney starter to get the party started. For fuel, they cut down trees and stockpiled the wood in big bundles. I had a feeling that we'd be using a lot of that wood this weekend.
Look at this gorgeous fish.
After all the dishes were ready, everyone gathered in the dining room for prayer. This was my first Shabbat so I observed all the rituals: the reading of the Torah, the blessing of the bread, and the wearing of the yarmulke that was way too small for my large head.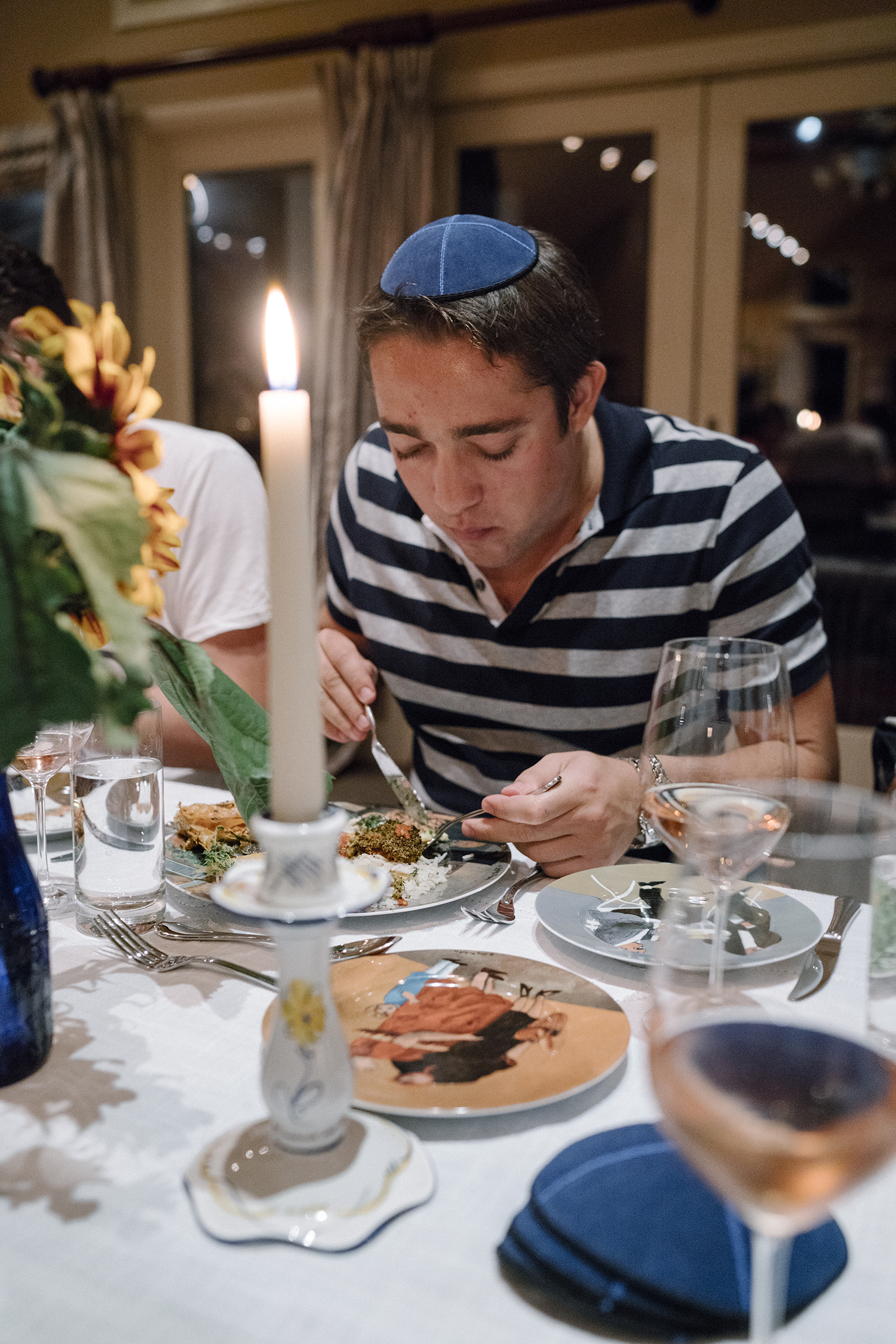 After the formalities, the family descended on the table of food like locusts. It was every man and woman for themselves.
Dishes included a Turkish tomato rice pilaf (loved the crispy rice), salad, spinach quiche, and the crispy branzino with drizzled olive oil, hot off the grill.
To digest, we danced a traditional hora then laid out on the patio, imbibed some wine, and listened to the crickets outside; their metronomic chirping lulling us to sleep.
Saturday
I was the last one to awaken from my slumber at nearly 10:30am and the kitchen was already buzzing with activity. Everyone was pitching in and setting up brunch: David sliced up his gravlax, Jeremy prepped fresh ginger to be pickled, everyone else helped set up platters of bagels, cream cheese, sliced tomatoes, and cured meats.
Just observing the way everyone worked together, it was clear that there was an abundance of love in this tightly-knit family and that the food was the manifestation of this affection.
As we finished up, some people were struggling...like literally passing out at the table and on the couch
The sun was warming up the pool so we all went for a dip.
Chirping pierced the air and we discovered baby birds in the pool house in their cozy nest. They sounded hungry but feeding them bagels with shmear didn't seem prudent.
After tanning by the pool, we all went out to the lake to go water skiing. I was especially nervous, it being my first time and all.
Everyone suited up and began carving some waves.
All that water skiing (or in my case, no water skiing), left us hungry. Lucky for us, lunch was about to begin.
The first pasta had generous amounts of smoked salmon, cherry tomatoes, and salty roe to cut through the creamy sauce.
The other pasta had sun-dried tomatoes, tender shrimp, basil, garlic, and saffron. The showstopper was Mama B's eggplant stuffed with meat. I usually avoid eggplant but loved this rendition after one bite. The juicy eggplant was charred and the savory meat within dripped with flavor.
As the sun began to set, everyone laid out on the patio couches and I took a nap on the plushy red sofa.
After this siesta, dinner preparations began. Jeremy and Papa B began attaching Cornish game hens to the skewer and then began basting the birds with a mixture of mirin, soy sauce, chili flakes, gochujang, sesame oil, splash of korean apple vinegar, and sweet miso.
The family set the table and then we enjoyed a really refreshing gazpacho that I may or may not have had three bowls of.
With our bellies full, we retired outside and played a rousing round of Celebrity, where we had to guess as many celebrity names as possible. I forgot who won because I passed out from food coma.
David and I went for a Sunday morning drive to a local favorite - Maple Bank Farm. Freshly farmed vegetables laid out in bundles on the table with bouquets of fresh flowers outside. We even had time to say hello to the sheep grazing in the backyard pasture.
SUNDAY
When we returned, the kitchen was already in full swing. Leila was making a stone fruit pie filled with local peaches, plums, and sour cherries.
Patty, an accomplished violinist who received tutelage from Itzhak Perlman, prepared her signature pear pie with apricot marmalade. Look at the neatly arranged pear slices. Her technique was flawless!
David began making his french toast. Egg wash with vanilla, freshly grated nutmeg, cinnamon, sugar, heavy cream, and a pinch of salt. Then he cut thick slices of fresh Challah, dipped it into the mixture, and dropped it into the hot pan on the stove for a satisfying sizzle.
Jay was hard at work squeezing like 50 lemons by hand for a vat of lemonade.
While prep continued, we walked around the property and David showed us where the ramps were growing just a few months ago. Then we hit up the pool and played with Ruby and Ava who had a great time in the sun.
We cooled off with some poolside watermelon shochu which tasted like candy.
The men joined Papa B as he began warming up not one, not two, but three grills on the patio. One for meat (lambchops, meatballs, kebabs), one for grilling veggies, and one dedicated to cobs of juicy sweet corn.
Everyone gathered around the table while plates of kebabs, lambchops, veggies came off the grills. The weather was perfect and I felt at peace.
Basking in the grace and generosity of this family, I smiled as I took a pictures of food.
Thank you to David and his family for opening up their home, feeding me nonstop, and exemplifying what family is all about.